Mission
OUR MISSION WORK AND PARTNERS
"You will receive power when the Holy Spirit comes on you; and you will be My witnesses in Jerusalem, and in all Judea and Samaria, and to the ends of the earth" (Acts 1:8, NIV).
At Green Creek First Baptist with believe that missions is a vital part of the church's ministry to help reach the world with the Gospel of Jesus Christ. We do this by supporting the mission works of the Southern Baptist (SBC) around the world and by supporting local missions as well.
Each year we participate in collecting love offerings for Southern Baptist missionaries. Around Easter we will collect the Annie Armstrong love offering to support North American (NAMB) missionaries, in September we will receive a love offering to help support mission work in North Carolina and at Christmas we collect the Lottie Moon love offer to support our International missionaries (IMB). We also give to the Cooperative Program to support all SBC efforts.
NC Baptist Children's Home – The Baptist Children's Homes of NC have 21 locations to provide ministry to children and families in need. The vision is to provide the highest quality of Christian services to children, adults, and families in a caring culture of measurable excellence. Their mission is "sharing hope…changing lives. For more information go to bchfamily.org
Polk Baptist Association – GCFB Church is a member of the Polk Baptist Association where we partner with other Baptist churches in Polk County to make a difference in lives of induvial in our communities for the Kingdom of God. Go to polkbaptistassociation.com for more information.
Book Bags/School Supplies – Each year the members at CGFB reach out to our community in several different ways. For the last two years we have collected book bags and school supplies to hand out to needed families in the surrounding community before the new school year begins. In the past two years we have giving out over 230 book bags filled with supplies in local schools.
Disaster Relief – When disaster hits we do our best to respond and help. Since 2016 with the help of local churches we have sent more than 4 tractor trailer loads of cleaning supplies, water, baby food and diapers, nonperishable food, pet food and paper products to areas that have been hit by natural disasters.
First Responders Appreciation Dinner – Each fall we host a First Responders appreciation service and dinner for the men and women who serve the Green Creek and Polk County communities. It is a simple way to say thank you for their services and to thank God for induvials who humbly give of their time and resources to make Polk County a better place to live.
JAARS – For over 70 years JAARS has helped make Bible translation possible in the most remote places of the world. Their Vision is that people's lives and communities are transformed as they experience God's Word in their own language. For more information go to JAARS.org
Hope Remains – Hope Remains Ranch is a place where youth, families and adults are transformed through the hope found in Jesus Christ using counseling, mentoring and equine therapy. They have a vision to see every person inspired to follow Christ, healed from the past, equipped to begin a new life and have hope for the future. If you would like to know more go to hoperemains.org.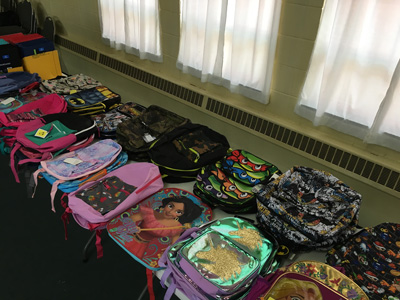 Word of Life – At GCFB we have WOL clubs for youth and children that meet on Sunday afternoons. We also sponsor out local WOL missionary as he works with us to give each child the best possible experience to learn the Bible and enjoy games and fellowship. WOL creates faith-defining experiences that give student and families the opportunity to encounter God and grow in their spiritual walks. To learn more go to wol.org
Church Plant – GCFB is sponsor of CrossLife Church in Spencer NC. CrossLife was formed in July 0f 2018 in the facilities of what was formerly Spencer First Baptist. CrossLife seeks to grow believers to mature disciples of Jesus Christ. Their mission is "to give of our lives to serve Jesus through our worship, to grow through our studies, and to go and tell the world what Jesus has done."
Deborah Stevens – Deborah is affiliated with "Youth With A Mission" and currently serving in London, England. Her grandparents are former members of GCFB and she visited our church often growing up. For more information you can go to daughteroflights.com or email her at deborahestevenson@gmail.com.